NetWorker Inactive Files feature
A new reporting feature of NetWorker 7.4 is Inactive files. This feature allows you to report out information either at Client level or Group level on files that are being backed up but have not been modified or accessed over a period of time (other than to be backed up).
This new report may prove useful when deciding what data needs to be backed up and how often and which data could be considered for archiving.
The parameters for Inactive files can be set using the following thresholds:
File activity threshold: this is the number of days the file has not been accessed before it is considered inactive (maximum 365 days)
File Inactivity alert: this is the percentage of space that can be occupied by inactive files before generating an alert if exceeded. (0 - 99%)
The alert will be sent via the savegroup notification and will appear as below:
saveset client1:D:\: percentage of inactive files by count: 95.20, by space: 85.57
Setting a value of zero will turn off File inactivity reporting, note: this needs to be done at client level and/or at group level. Group level overrides client level
Reporting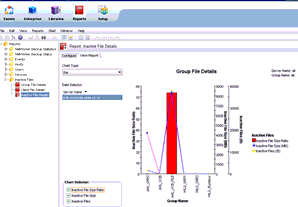 You can generate reports for inactive files based on groups or clients using the reporting tool in NetWorker Management Console.
Using the table option will give you a breakdown of the graph view into client and size summaries.
Table view:
Client File Details
Server Name: all
Group Name: all
Client Name: all
| Client Name | Group Name | Server Name | Group Start Time | Total Files (B) | Total Size (MB) | Inactive Files (B) | Inactive File Size (MB) | Inactive File Size Ratio |
| --- | --- | --- | --- | --- | --- | --- | --- | --- |
| alpha01 | solsvr | sierra02 | 240209 1424:57 | 74.9 | 57873 | 0 | 0 | 0 |
| bravo04 | solsvr | sierra02 | 240209 0955:00 | 9 | 1.481 | 0 | 0 | 0 |
| charlie99 | lnxsvr | sierra02 | 240209 0908:52 | 9 | 1.481 | 0 | 0 | 0 |
| delta01 | solsvr | sierra02 | 240209 1022:09 | 40.5 | 11.01 | 30.18 | 8.181 | 74% |
| echo01 | wk2svr | sierra02 | 250209 2000:00 | 90.9 | 81.48 | 0 | 0 | 0 |
| foxtrot03 | solsvr | sierra02 | 280209 1101:57 | 18 | 9.214 | 0 | 0 | 0 |
| | GRAND TOTAL | | | | | 30.17 | 8.181 | 74% |