Converting NetWorker daemon.raw files to daemon.log files
If you have installed NetWorker version 7.4.X and upwards you may have noticed that the daemon log file has been modified to report as daemon.raw rather than the daemon.log.
You are still able to view the daemon.raw file but it is harder to decipher than the daemon.log file. The daemon.raw file is able to be output to a readable daemon.log format by using a command line function.
You can to either direct the daemon.raw to a file or view in a command line shell.
Example
To view the daemon.raw in the shell issue the command.
nsr_render_log <path to logfile>
For example:
UNIX/Linux
# nsr_render_log /nsr/log/daemon.raw
Windows
C:\> nsr_render_log "C:\Program Files\Legato\nsr\logs\daemon.raw"
Sample output

To direct to a file, use the same command and use the > logfile at the end of the command line. For example:
# nsr_render_log > /nsr/logs/daemon.log
C:\> nsr_render_log "C:\Program Files\Legato\nsr\logs\daemon.raw" > "C:\Program Files\Legato\nsr\logs\daemon.log"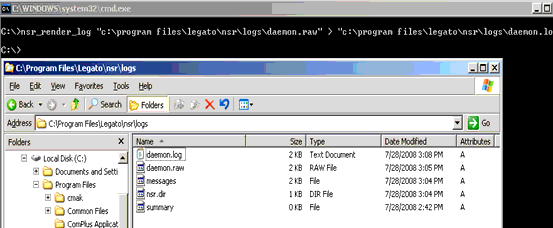 NOTE: